Four ways Christians are getting the gay debate wrong.
Yesterday, basketball center Jason Collins became the first professional American athlete to come out as gay while still active in a team sport.
As soon as the news broke, the religious debates started. Christians expressed their disapproval; Christians came to his defense; people accused one another of being bigots or sinners. It happens every time, and as a Christian, I find it incredibly frustrating.
Shortly after the news broke, for instance, ESPN anchor Chris Broussard came under fire for the following comments:
BROUSSARD: Personally, I don't believe that you can live an openly homosexual lifestyle or an openly—like premarital sex between heterosexuals. If you're openly living that type of lifestyle, then the Bible says you know them by their fruits. It says that, you know, that's a sin. And if you're openly living in unrepentant sin, whatever it may be, not just homosexuality—adultery, fornication, premarital sex between heterosexuals, whatever it may be—I believe that's walking in open rebellion to God and to Jesus Christ. So I would not characterize that person as a Christian because I don't think the Bible would characterize them as a Christian. 
As I've been following the debate over the last 24 hours, I've been struck by how often I see Christians make the same mistakes over and over.
Here are four ways many American Christians are getting this whole thing wrong.
1. Equating "being gay" with "having sex." If an unmarried person tells you they're "straight," would you assume that they're having sex? Probably not. Most straight adults are having sex, but not all of them are. The same is true for gay adults. In his coming out article, Jason doesn't say anything about his sexual beliefs or practices; he says only that he's single. Why, then, does this suddenly become a debate about the morality of gay sex, with comparisons to sexual behaviors like "fornication" and "adultery"?
I grew up in a Southern Baptist church with strict beliefs that people shouldn't have sex outside of marriage. When I finally, tearfully admitted (after years of trying to avoid it) that I was attracted to guys instead of girls, I found myself on the receiving end of lecture after lecture about how being gay was a sin "just like adultery or premarital sex." But I wasn't having any kind of sex at all. Being gay isn't like adultery or premarital sex, because being gay isn't a sex act. Even if I never have sex, I'm still gay.
2. Using that (assumed) sex act to define us as people. It's one thing to believe gay sex is sinful, but it's quite another to define gay people and our lives by that one act. This is where that devious word "lifestyle" creeps in. (I've explained before on the blog why I hate that word.) Even if Jason Collins is having sex, that doesn't mean he's living a particular kind of "lifestyle." Do all sexually active straight people live the same lifestyle? Was Billy Graham's lifestyle the same as Howard Stern's?
My friend Marty mentioned on my podcast this week that the words "gay lifestyle" are typically a euphemism for "having gay sex." But by using the word "lifestyle," you end up defining gay people's lives entirely in terms of that sex. Notice how Broussard stumbles in that video clip when he tries to apply the same terminology to his other examples: "I don't believe that you can live an openly homosexual lifestyle or an openly—like premarital sex between heterosexuals." It's as if he started to say "an openly 'premarital sex' lifestyle" and then realized that made no sense. Because if two straight people have sex before marriage, people might call that sinful, but no one would refer to that as their "premarital sex lifestyle." We view it as one particular act, not a definition of the entirety of their lives.
(Also, just as a side note, I get Broussard's point about the need for Christians to repent of sin, but considering that research says 80% of young unmarried Christians have had sex, I'd be a little reluctant to make blanket statements about who is or isn't a Christian.)
3. Treating gay people as symbols of a culture war instead of as human beings. Jason Collins is a person. By his own admission, he's been through a lot of struggles in figuring out who he is and whether to talk about it publicly. But it often feels that when someone like this comes out, many people on both sides view them as just a symbol for us to celebrate or bemoan, so that we all must rush to express approval or disapproval.
I wish, instead, that Christians' first reaction to news like this were to want to understand, to ask questions like "Why would a Christian in a decidedly anti-gay field feel the need to identify himself as gay? What brought him to this point? What obstacles did he overcome? What has his experience been like?" These are the questions of a compassionate person, one who is willing to put the other person's humanity first.
Maybe people don't think of those questions as much when the person coming out is a celebrity. But when I came out to the people I knew personally, I had the same experience. People were quick to condemn me and only rarely took the time to ask me questions about why I felt the way I did or what had brought me to that point in my life. It's as if, when you come out, you cease to be someone's friend and become only a representation of an issue.
4. Assuming that being gay is a choice. Who you date, marry, or have sex with is a choice. Who you are attracted to isn't. "Being gay" only refers to who I'm attracted to. It's not something I chose, and it's something many of us were, frankly, afraid of when we first realized it about ourselves.
But over and over, I see Christians talking about being gay as if it were something one could choose to be or not to be. In a Christian Post article this week, Jason Collins was described as "the first active athlete in professional sports to speak about his lifestyle choice" (emphasis mine). What "lifestyle choice" do they mean? On another website, a Christian commenter echoed many when he wrote that "I do not see how anyone can argue with what Broussard said: Living as an open homosexual is open rebellion to God."
I hear these kind of statements every day. But think about it for a moment. If "living as an open homosexual" is rebellion against God, what choices do I have? I'm already gay; I can't change that. I could choose to lie and not to be "open" about it, of course, but I don't believe in dishonesty. Other than that, the only way I could avoid "living as an open homosexual" would be to stop "living." I don't have to tell you where that kind of thinking leads.
Is that what the commenter intended? Of course not. But that's how the message comes across, day after day, to gay people across the country and around the world.
Let me be clear: I think everyone has a right to their moral views, even when they disagree with mine. We Americans can disagree on the morality of gay sex just as we can disagree on the morality of eating meat or drinking alcohol. We Christians have disagreed for centuries on theological questions from the makeup of the Scriptures to infant baptism to transubstantiation. But this isn't just about a moral disagreement; it's about how we treat one another and how we talk about one another. If we Christians can't show more love and willingness to listen, it won't change one person from gay to straight, but it will turn a lot of people against Christianity.
That's why I wrote TORN. That's why I write this blog. That's why I do what I do. Hey church, are you listening?
Missing the forest for the A/Bs.
Since my book TORN came out a few months ago, I've gotten a lot of praise for it. I'm not gonna lie; as an author, that's a pretty cool experience.
I've also had some critics. And you know what? I'm cool with that, too. I like engaging in dialogue with people who disagree with me. I learn a lot from those conversations.
Only one thing bothers me, and that's when people miss the point entirely. I don't mind the criticism, but I'd rather be criticized for my actual message. KnowhutImean?
If you've followed me for long, you know that I often talk about two "sides" in our culture's gay debate: "Side A," which argues in favor of consummated gay relationships, and "Side B," which argues against them. As I reiterated earlier this week, my ministry focus is on helping people show love and grace in the gay debate, not on winning people to my "side." If you've missed that, then you've missed the entirety of what I stand for.
Don't get me wrong; whether the church should be Side A or Side B is an important question. It matters in my life as a gay person, it's connected to how we read the Bible in other contexts, and it affects a number of social and political issues.
It's an important question, yes, but I don't believe it's the most important question. I believe the even more important question is how we fix the dysfunctional approach so many Christians have taken to the entire issue. Not only are we not changing each other's minds; we're tearing apart families and giving Jesus a black eye. We've become known for our lack of grace, and that's got to stop.
In my view, if we miss the importance of grace in how we approach the A/B divide, we've missed the boat so completely that arguing about Side A and Side B is like rearranging the deck chairs on the Titanic.
Or… wait. I just mixed that metaphor. I mean, if it's the Titanic, then you probably wanted to miss the boat. You know what I mean, though.
I think I've been clear about that, both on my blog and in my book. Yet over and over, when I talk to reporters and event planners and new acquaintances, I have conversations that feel like this:
Other Person: "So you've written a book on the homosexuality debate in the church?"

Me: "I have! It's called TORN and it's based on my experiences working to build bridges between the sides over the last 15 years."

Other Person: "Uh huh. So which position do you take? Are you for or against gay marriage?"

Me: "Um, well, that's not actually what the book is about. The book is about how the lack of grace in the debate is hurting Christianity's reputation, and what we can do to—"

Other Person: "Sure, sure. But which side are you on personally?"

Me: "Well, that's been a journey for me, because I started out on what we call 'Side B,' believing that homosexual behavior is sinful, and in the course of my journey, my view changed. But my ministry is with people on both sides, and I don't want to give the impression that—"

Other Person: "Great. So now you support gay marriage?"

Me: "Well, yes, but that's not actually the focus of my—"

Other Person: "Great. Let's have a public debate about gay marriage and the Bible. You can represent the gay side, and we'll have so-and-so represent the Christian side."

Me: [sigh…]
I don't know how many ways to say this. Yes, I'm now Side A. Yes, I'm happy to explain how I came to that conclusion if you really want to know, and I have done so in response to people's questions. But no, that's not my primary focus, and it's not what my book is about. In fact, most of the book is written from a Side B perspective, because it's about a time in my life when I held Side B views, and the book has gotten a lot of praise from people on both sides.
Somehow, though, this hasn't stopped some individuals from characterizing my book as if it were primarily a theological work to convince people of Side A—and then criticizing it for not going into enough depth about the Side A beliefs it supposedly exists to promote.
I knew this would happen, of course. For a while, I even considered writing the whole book without mentioning which side I was on, but it just didn't work. A lot of my journey depends on understanding the turmoil I felt as I wrestled with the Scriptures. The Bible is very important to me, so I couldn't just leave it out. And anyway, I don't think you should have to hide which side you're on in order to build a bridge to the other side.
At the same time, I knew I didn't want my book to be a detailed theological defense of a particular side; that's already been done in dozens of other books and it's a distraction from my central message.
Instead, I decided to briefly summarize my biblical journey in two chapters, giving an overview of some of the different issues at stake and why Bible study ultimately changed my mind on the issue, but then moving on and not letting that become the focus of the book.
Only two chapters touch on the A/B Bible debate—one about why I felt torn, and one about why I changed my position. The rest of the fifteen-chapter book is focused on the ways both Side A and Side B can agree—stories of grace shown and grace denied, advice on how we can move forward together and examples of people on both sides getting it right and getting it wrong. At the end of the book, the person I hold up as a supreme example of handling this issue the right way is someone who disagrees with my Side A biblical view. I did that on purpose, because my point in the book isn't about Side A or Side B, but rather about how people on both sides can show more grace in the debate.
Makes sense, right?
But even as many Christian leaders on both sides have embraced and supported the book, including the most recent Archbishop of Canterbury, there have been a few critics who act as if I were primarily a Side A activist and those two Bible chapters were the only chapters in the entire book.
This week, my fiercest critic has been Side B theologian Robert Gagnon, who's minced no words in criticizing me for a paragraph I wrote about the "man should not lie with man" passage in Leviticus. In that section, I discuss why I felt so torn as a young man, trying to make sense of whether the passage condemned only gay sex or gay romance as well, and whether it was limited to a particular cultural context or applicable to today's Christians. I go back and forth on the question, and I briefly mention that while many Side A and Side B scholars disagreed on how to interpret the passage, one point they agreed on was that same-sex cult prostitution was part of the cultural context. (I then go on to explain why that line of argument was interesting but didn't really answer the question for me, because it could be interpreted in two different ways.)
Dr. Gagnon is upset with me because I quoted him as an example of a scholar who believes the Bible condemns all gay sex (Side B) but who nonetheless acknowledges that cult prostitution was part of the cultural context. He wrote an open letter to me last week, saying that I should have gone on to clarify that he doesn't believe Leviticus should be limited to that context. (I would have thought that was obvious from my description of him in the book as a Side B scholar; that was the whole point. Did any readers honestly come away with any other impression? If so, I most definitely apologize.) He also wants me to address his other major arguments in a 520-page scholarly tome he's written on the subject.
But, see, my goal in that passage was to give the casual reader a brief glimpse of the turmoil I was going through and the kinds of questions I was asking at that point in my life. I wasn't trying to offer an in-depth discussion of both sides of the scholarly Bible debate; there wasn't enough space, it wasn't the kind of book I was writing, and it's not the conversation that I'm most interested in.
Not surprisingly, Dr. Gagnon has now challenged me to a public debate with him on Side A and Side B. I'm still trying to figure out how to graciously respond to these requests. If I say no, it gives the impression that I'm not confident in my biblical interpretation, that I don't think it's important, or that I'm not willing to subject my views to public scrutiny. On the other hand, if I say yes, I risk being pulled into the very kinds of ungracious us-versus-them battles that my whole book is about trying to avoid! It's one of those cut-the-baby-in-half moments; I'd lose even if I won.
I'm not averse to discussing my views publicly or having them picked apart and criticized. I'll even do a "debate" if it can be done with a gracious tone and in the context of a broader dialogue about grace and understanding on both sides. But I'm not interested in becoming a Side A evangelist. If you want that, talk to my friend Matthew Vines, who is very interested in doing that work. For my part, I'm interested in maintaining an open dialogue with both sides and finding ways we can bring grace back to the conversation, even if we disagree.
Because, I've gotta tell ya, if the tone of some of my critics' messages (and some of my supporters' messages as well!) is any indication, we still have a long way to go.
Grace > justice.
I have two friends—let's call them Charlie and Stuart—who don't get along.
They are both really awesome guys. I enjoy hanging out with both of them. They're both well-liked, and they both get along with my other friends.
But put them in the same room together, and you can almost feel the temperature of the room drop a few degrees. They seem to be incapable of having a conversation without trading barbs.
Ask either one of them why he so despises the other, and he'll quickly give you a list of perceived wrongs: "I will never forget when he said such-and-such to me." "He never apologized for the time he humiliated me at that party." "Do you know what he said to me the last time we talked?!"
But ask him about the wrongs that the other has listed, and you'll hear a different story: "That's not what I said," or, "He's blowing that out of proportion," or, "Yes, I said that, but only because of what HE said first!"
That last one is a big key. Over the years, these two guys have built up so much resentment toward each other that they now interpret every minor annoyance as part of a pattern of unkind behavior—a pattern that, in their minds, justifies their own lashing out and cold shoulders and other less-than-charitable responses.
"Yes," each side seems to say, "maybe I do sometimes do things to irritate him, but he deserves it! After all, I've been more than understanding as he's heaped injustice after injustice upon me, and there comes a point where I just can't take any more! I'm not superhuman, you know, and I have to stand up for myself sometime!"
But of course that act of "standing up for myself" adds fuel to the other one's fire, providing just one more justification for his own anger and frustration.
Do you know people like this? Do you ever get caught up in other people's feuds? From an outside perspective, it's obvious that one side or the other will have to swallow their pride and break the cycle. But woe to you if you even suggest such a thing! Both sides are convinced that they've been terribly wronged, and they can greatly resent any implication that they are in any way at fault for the cycle's perpetuation. ("You're taking his side now? Can't you see how horrifically he's treated me? I'm not the one who needs to apologize!")
In other circumstances, Charlie and Stuart might just avoid each other, but they run in the same circles and have many of the same friends. Their friends really want them to get along, but everyone's too scared to say anything that might come across as taking sides.
The other day, I was hanging out with Charlie, and I asked him about trying to break the cycle. Couldn't he be the bigger person and offer forgiveness to Stuart, even if it seemed undeserved?
In response, he laughed bitterly. "I tried to reach out," he said. "I did. I was nice, I was gracious, and in response, he practically bit my head off."
I suspect that after all this time, Stuart has become so conditioned to seeing Charlie as the enemy that he didn't even recognize when Charlie was trying to be nice. Charlie, for his part, wasn't willing to be patient enough to keep trying. When Stuart rebuffed his attempt to repair the relationship, Charlie retaliated in a way that only damaged the relationship further. When I asked Stuart about it, all he remembers is Charlie's angry retaliation. He doesn't seem to be aware of any attempt to make nice.
"What do you mean, 'He tried to make things right'?! Do you know how he just treated me?! You can't move on from something like that," Stuart said.
So these two truly awesome individuals have become bitter and angry, bringing out each other's worst traits. And they're not the only people in such a situation, either. I see this story play out time and time again in other people's lives.
It's even happened in my own life, though I didn't realize it at the time. Someone I knew was treating me abominably, and as far as I was aware, I hadn't done anything to him. When other people asked me about him, I told them quite honestly that he struck me as a jerk and a bully. Only later, when he and I finally talked about the situation, did I discover that he had behaved the way he did because of perceived hurts from me that I hadn't been aware of—and my unkind comments to others about him had only further served to convince him that I was a terrible person. We both apologized, and had to work hard to repair our friendship. (Eventually, we succeeded.)
It's easy to see the folly of the cycle in other people's lives. But what about our own? We've all been mistreated by others, and we've all had occasions to respond in anger or frustration, feeling that our own reactions were justified by the far worse treatment we'd received.
But there's a reason Jesus said to "turn the other cheek" when someone strikes you. No, you shouldn't stay in an abusive situation (physically or emotionally), but as Christians, when we are wronged, we're called to forgive, not to retaliate. Yes, maybe the other person's words or actions were reprehensible. Yes, maybe our retaliation would be "justified." Yes, maybe the other person has never fully acknowledged the need to apologize. But we are called to forgive anyway, and to avoid holding a grudge. We are called to recognize the other person's flawed humanity, to realize that we, too, are human and do bad things, and to move on from the pain. Don't return to a place where you'll be abused over and over, but don't perpetuate a cycle of anger and revenge, either.
Are you holding anger in your heart against someone who's hurt you? Maybe it's time to forgive, and to show them grace. Even if they never acknowledge it, even if they throw it back in your face, give it over and over again.
Do they deserve it? No.
But that's what makes it grace.
I'd have gotten away with it, too, if it hadn't been for that meddling Spirit!
A Facebook friend of mine just posted a political graphic to his wall. It's a snarky, mean-spirited photo that takes a stand on a particularly divisive issue and makes fun of those on the other side.
Guess what. I'm on the other side. And this graphic is WRONG WRONG WRONG WRONG WRONG. It's so wrong. It's wronger than wrong.
As I was fuming over this WRONG post he made, inspiration struck. I suddenly realized I had the perfect response—intelligent, well reasoned, and maybe a little bit snarky. With a one-line comment, I could put the graphic's originator (and, by extension, my friend) in his place.
Oh, I couldn't wait to hear his reaction to my perfect comeback. I felt like this:
Ever have one of those moments when the perfect comeback just comes to you at exactly the right time? Oh, it's a beautiful thing.
But just as I was about to type it out, I heard a little bit of throat clearing from the Holy Spirit.
"So," said God nonchalantly, "what's up?"
"Oh," I said, "this guy. He's just SO wrong. Man. You wouldn't believe—oh, well, I guess you would believe—but still. He's really wrong. So anyway, I came up with this great response—ha ha—it's perfect! Yeah, it's a little snarky, but he deserves it. I mean, you agree with me, don't you, that his argument is completely messed up and that this post is hateful?"
"How do you think he'll react to your comeback?" God asked, ignoring my question.
"Well…" I said, knowing full well where this was going but not really wanting it to go there, "He'll probably be upset."
"And he'll change his mind?"
I considered this. "Well, no. I suppose not. He'll probably just be irritated at me and refuse to acknowledge that I'm right. But he's WRONG! And this is an important issue! Don't I have a responsibility to say something?"
God didn't answer that either. At least, I didn't hear an answer. Instead, the Spirit seemed to reply with another question: "Why did he post it? What is he thinking?"
As if I'm supposed to understand such stupidity as this guy posted. "I don't know. It's stupid. It's terrible. It's hateful."
"Think about it. You're always talking about putting yourself in others' shoes."
I thought about it for a moment. "Well," I replied, "I guess he genuinely believes that his side has a better solution to the problem. I'm positive he's wrong, but he obviously believes it pretty passionately. Maybe he's worried that bad things will happen if my side wins the debate, just like I'm worried about what will happen if his side wins. But that's still no excuse for posting something that ridicules those who disagree with him."
"Have you ever ridiculed people who disagree with you politically?"
Ugh! Why does the Holy Spirit always manage to bring it back to my own mistakes when it's so much easier to sit in judgment of others?
In this case, though, I was pretty sure I was in the clear. I honestly don't post those kinds of images on Facebook. But just as I was about to respond, a few images flashed into my mind. I remembered certain YouTube videos I've laughed at, jokes I've told, and Facebook images I stayed silent on publicly but privately giggled over with friends—all at the expense of people I disagreed with.
With those memories in mind, and Jesus' words about stone-casting ringing in my ears, my response to the Spirit's prodding went something like this:
So I didn't write my snarky response. I sat down and wrote this blog post instead. And I was reminded, once more, that my neighbor's sins may look a little different from mine, but we're all in the same boat.
Yes, I want to make change on the issues I care about. But when I can't do it in a way that's kind, compassionate, snark-free, and understanding of those who disagree, I think I'm better off keeping my big mouth shut.
-
P.S. God does not actually speak to me in an audible voice. This dialogue is my interpretation of a conversation with God. Dear God, if I've misquoted you, please forgive me and don't sue me for libel. Thanks.
A new video! Here are 4 tips from me to Christians everywhere about how to talk to the gay people in their lives.
The Huffington Post has just published an open letter I wrote. Check it out!
Yesterday I participated in a HuffPost Live discussion about Focus on the Family and their position on gays. What do you think: How did I do?
My rant about political rants.
Okay, I've avoided it all season, but I have to say something about politics.
Hold on tight.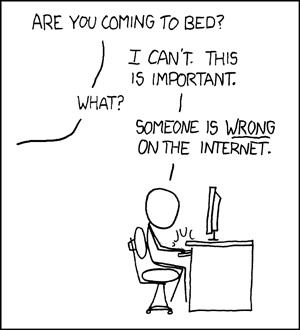 The polarization in this country is really out of control, folks. This morning, I logged onto Facebook only to find two competing rants by friends of mine, each promoting one of the two major candidates for President. Each rant made claims about their candidate's opponent that are patently ridiculous and easily disproven: If he wins, the economy will fall apart! He doesn't care about the country! He has an evil agenda! Did you know that he supports a bill to kidnap babies and feed them to trolls?
Both of these friends are smart, reasonable people. They should know better. It would only take a few minutes of fact-checking on non-partisan websites to learn that many of their claims aren't true, but in both cases, they were so blinded by party loyalty and hatred for the opposition that they were willing to believe almost anything. Nor did the scores of commenters on their rants seem to notice the major errors of fact and logic; they all consisted of either "Yeah! Right on! You tell 'em!" or "How can you support that guy?! Don't you know…" followed by rants of their own.
Then there are the posts by people who are so fed up with the noise that they've decided to remove themselves from the political discourse altogether and simply not vote. But—with all due respect to my beloved friends who have made that decision—I don't find that very helpful. The candidates are different, and while I don't agree with either candidate about everything and I don't like the limitations of the two-party system we've got, I do think it makes a difference who we vote for, and I have already gone to the polls to cast a vote for the candidate I think will be best for the country.
You might not like the same candidate I like. I'm okay with that. We may disagree on a number of the issues. I'm okay with that too. And some people may feel that they don't know enough to make an educated decision about who to vote for. I'm also okay with that.
Here's what I'm not okay with: Our political discourse in this country has gotten so polarized that it feels like 90% of folks have planted their flag on one side of the aisle or the other, and now we're just looking for anything bad we can say about the other side (even if it's not entirely true) while we happily go along with everything our side says (even if we ought to be asking more questions). And so we end up battling as if this election were Jesus vs. Voldemort and it starts to look more like the ultimate sporting event than a real conversation about the issues that actually affect us.
Yes, most of us will agree more with one candidate/party than with the other. But neither candidate/party is perfect, and it's about time that all of us spend some time holding our own candidates and parties accountable—not only challenging them to do better on issues where we disagree with them, but also challenging them to be willing to compromise when the folks on the other side of the aisle have a good idea. But to do that, we have to stop treating this as a clash between Good Guys and Bad Guys and start recognizing it for what it is: a lot of flawed human beings with different ideas about how to best run the country, all of whom want to see the country do well and all of whom are concerned about things like getting re-elected and helping their party succeed.
I think there are three major things we need to do as individuals:
We need to educate ourselves about the issues. And that means that all of us need to listen to what those we disagree with say, so that we can understand both sides of the issues that divide us. Every day, I hear people telling me how they agree/disagree with Obama's health care law, or Romney's tax plan, or whatever the case may be. Fine, but how much do you actually know about this plan/bill/position you agree/disagree with? When I ask them for details, the majority of them can't give me much beyond a few talking points they heard from others on their side. If we're going to hold our candidates accountable, we need to know what we're talking about.
We need to insist on compromise where it makes sense. Both parties like to block their opponents from scoring any political points, and as a result, we see a lot of situations where one side has a good idea, but the other side blocks the discussion and/or immediately takes the contrary position. Look, on some issues, there's no compromise. But on many issues, we share the same goals: we all want to reduce poverty, improve the economy, and have less violence in our world. We just disagree on how to accomplish those goals. And every election, our politicians tell us that they'll reach across the aisle, but it rarely if ever happens—and when it does, those on the other side of the aisle aren't usually receptive anyway. Personally, I'd love to see an independent body start ranking politicians according to how often they try to work with those who disagree with them and find compromise. I'd totally use that in making my voting decisions.
And finally, we've got to start listening to each other and not just shouting at each other. Quit with the Facebook rants and let's have a calm, reasonable conversation about the issues we disagree on. We might not end up agreeing, but at least I'll end up with a better understanding of why you think what you do. That way, after the votes are cast and the campaigning is over, you and I will have a stronger relationship, not a weaker one divided by politics.
And yes, I think all of this is relevant to the gay/Christian debate I discuss in my new book. The polarization we see in the Presidential race is just as evident in the culture war over homosexuality. It's become "Gays vs. Christians," splitting our families and churches, when it never should have been. Does it matter what we believe? Yes. Will we all agree anytime in the near future? No. But if I stop seeing you as the opponent and start learning to see the world the way you see it, then together, we can change everything.
P.S. Don't forget to sign up now for the Synchroblog for Sanity!
When people talk about you like you're not in the room.
Hey, I'm famous!…ish.
Actually, I'm not very famous at all. A bunch of you read my blog, which is cool, and a fair number of gay Christians know who I am, but it's not as if people freak out when I walk into Starbucks or stop me on the street and go, "Hey, aren't you…?"
And I'm perfectly fine with that. It's nice to have some semblance of a private life. I'm actually pretty introverted, and I work hard to come across as outgoing rather than shy. I have no trouble speaking in front of a large crowd or doing a national TV interview, but when it comes to my everyday life, it's kind of nice to be able to just blend in.
So imagine my surprise when I learned that this week, a Christian radio host and the leader of an ex-gay organization were having a public debate on the radio about whether or not I'm going to heaven.
Yeah.
Let me tell you, it's an incredibly weird feeling to be reading the news and see your own name in there, when you didn't know you had done anything newsworthy. It's even weirder when the news turns out to be that two people are arguing about your eternal salvation and no one told you.
Is this how Britney Spears feels? Is this what precipitates shaving all your hair off? Oh wait.
Anyway, here's the story: Alan Chambers is the head of Exodus International, an organization which has been, for many years, the world's largest "ex-gay" ministry. In my book, I talk about why I so strongly disagree with the approach that organizations like Alan's take to the issue, but that's a little bit beside the point of today's post. Alan, in turn, disagrees with many of the things I believe. Yet in spite of our public disagreement, we've actually managed to have a friendly relationship as brothers in Christ.
Alan recently said that even though he believes I'm wrong about a lot of things, he's not willing to rule out the possibility that gay Christians will be in heaven. And that got him in hot water with Christian radio host Janet Mefferd. The Christian Post quotes their interview:
Mefferd: If you believe that you have to turn from your sin and turn to Christ … how can you simultaneously hold that somebody who is an unrepentant homosexual can go to heaven?

Chambers: I don't think you know Justin Lee (founder of the Gay Christian Network). Justin is someone who identifies as gay.

Mefferd: But has he repented of his homosexuality?

Chambers: He is not involved in homosexual relationships. He is a celibate man.

Mefferd: But has he repented of his homosexuality?

Chambers: It depends on what you mean by repenting of homosexuality. He's not involved in homosexuality.

Mefferd: OK. But he is not repentant about homosexuality being a sin? In other words, by your definition of repentance, he has not agreed with God on what God says about homosexuality.

Chambers: Right … What I think the crux of the issue is … I can't tell someone that they do know Christ or that they don't know Christ. What I believe about Justin, having had numerous conversations with him is that he knows Jesus, is that he has a relationship with Jesus Christ. I don't know what people do with Scripture on issues related to homosexuality or anything else where so clearly they are living differently than Scripture teaches. I can't say to Justin, you don't know Jesus.

Mefferd: Why not?

Chambers: Because I don't know that he doesn't know Jesus.

Mefferd: You could talk to him; you could probe what he believes. The fact that he is living … a celibate life is immaterial because if he says homosexuality is not sinful and something to be repented of and instead something to be celebrated so much so that he found something called the Gay Christian Network, that would indicate that he does not agree with God about homosexuality being sinful.
Wow. So….
First off, my hat is off to Alan, who—in spite of some pretty major theological disagreements with me—was willing to stand up for me. I would have put things way differently (I've already ranted about why I don't like the phrase "involved in homosexuality," for instance) but I appreciate the point he was trying to make and I appreciate his sticking his neck out when he could have easily thrown me under the bus.
Secondly, if you've read my blog very much at all, you'll know that Ms. Mefferd is pretty far off in understanding anything about what I believe or why. GCN isn't about "celebrating" "homosexuality"; it's about providing Christian support to people in need, regardless of where they stand on the issue. 
But finally, how weird is it that two people on the radio were having a debate about my salvation—mentioning me by name? Do I get to have a say in this at all? Even just to explain myself or offer clarification?
Now, I should say that I'm really not that broken up that Ms. Mefferd's staff didn't call me to invite me to be on the show in response. From reading the transcript, I'm not sure she'd really care what I had to say anyway. But it struck me just how representative this is of what often happens in these kinds of discussions, when we have conversations about people without inviting those people themselves to be part of the discussion.
I see it a lot in this American political season. My Democratic friends make snide, holier-than-thou comments about "idiotic right-wingers," and my Republican friends make equally venomous remarks about "typical lying liberals." In each case, the remarks are made to groups of (mostly) like-minded folks who are eager to jump on the bandwagon and agree that the absent others are indeed terrible people.
But it needn't be so stark. Sometimes the people we're talking about are people we want to reach out to. Like when the all-white church decides it wants to increase its "diversity" but fails to actually engage any people of color in the conversation about how to proceed or whether the proposal is even a good idea. (I have a whole post to write about that one.)
The LGBT community can be really bad about this, too. I've seen LGBT groups develop messages designed to address social issues they care about, intending to change the minds of the people (especially evangelicals) who most disagree with them—but failing to actually talk to any evangelicals in the process. As a gay evangelical, I see these messages and go, "You don't really understand us at all, but we're the people you're trying to reach."
And I have the exact same response when a lot of evangelicals try to reach the LGBT community. Churches talk about us like we're not in the room, but if we were part of the conversation, a lot of pain could be avoided.
So next time you find yourself talking about the "other"—whoever it may be—consider inviting them to be part of the conversation and speak for themselves. And, you know, if you want to debate about whether or not I'll go to heaven, let me know. I might have something to add to the discussion.
P.S. Don't forget that tomorrow is the last day to vote on the suggestions for publicizing my book! Vote for your favorites so they can win a pre-release copy!